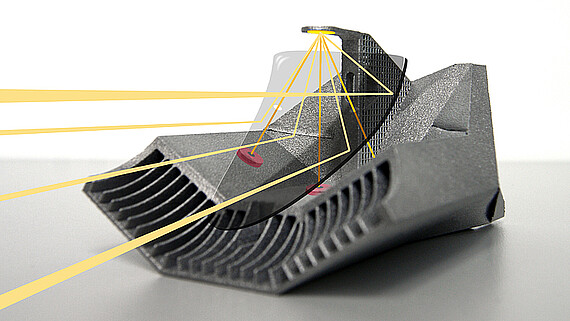 SAM is a coordinated PhD programme of the Leibniz Universität Hannover in cooperation with the Hochschule Hannover, the Laser Zentrum Hannover e. V., the TU Braunschweig and the TU Clausthal
The PhD program SAM is funded by the Lower Saxony Ministry for Science and Culture.
Idea of SAM
Additive manufacturing offers the possibility to directly manufacture physical components from virtual product models. In recent years, additive manufacturing technologies have found their way from research laboratories and prototyping into the industrial landscape and are key technologies for individualized mass production and sustainability.
Up to now, the aspect of special geometric freedom of design with regard to lightweight potential has been the main focus in additive manufacturing. The possibilities offered by the processes with regard to additional functional properties of the components have not yet been fully utilized. In the School for Additive Manufacturing (SAM), additively manufactured components are therefore to be further developed in such a way that they no longer only fulfil structural-mechanical tasks, feature sensory or actuator properties. The basis for this is the processing of graded multi-materials. The technologies developed in SAM can, for example, be used for adaptive prostheses, self-optimizing dampers in vehicle construction, or component identification and communication in the context of industry 4.0.